Riding the pine
Bowie, Bryan and I are about to celebrate our one year anniversary of moving into the new house. It hasn't taken very long to feel like home - we've hosted a variety of visitors, weathered more than a handful of storms, and put it through its paces with parties of all sorts. The house is set up perfectly for entertaining and we plan to continue using it for that.
This weekend, we built an entryway bench with shoe storage for the foyer. Currently, we have an unsightly industrial wire rack that we're putting all of our shoes on. I've been hunting for a replacement and knowing that I'll like anything we build better than something we can buy, I found
this plan that I liked
and seemed quite simple enough to build. You can put this entire project together with 2x12s, which makes it super easy to use just one size of wood.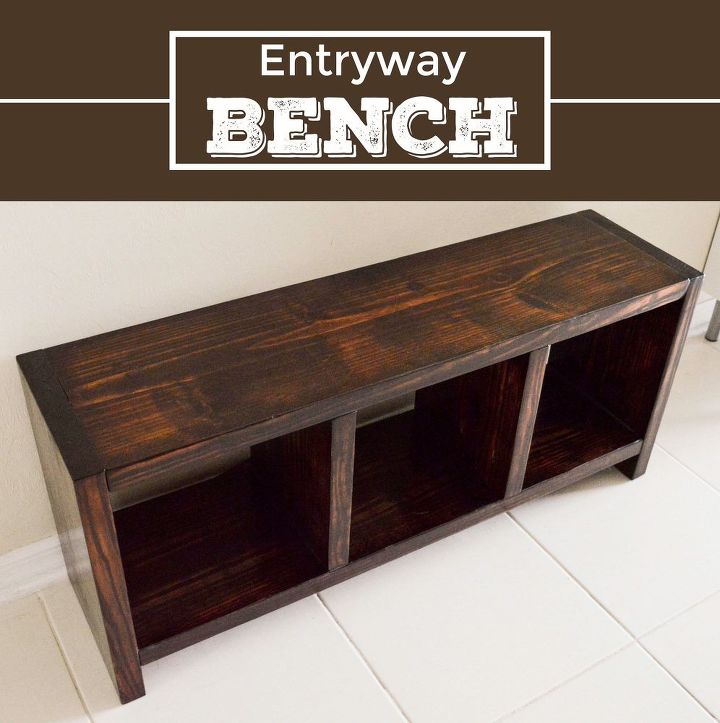 We had scrap pieces of 2x10 left over from our dining room table project so we slightly altered the plans a little by recessing the cubby dividers. We also had the top piece completely overlay the legs so it's one smooth surface to sit on. I wanted the bench to match
the entryway table we built over two years ago
(gulp). That stain has less red tones than our dining table.
Sanding in sandals - it was so hot
The entire project came together quite seamlessly. We used my dad's miter saw to cut all of the pieces and the kreg jig to drill pocket holes to attach all of the pieces. No wood glue or nails for this project! It only took us one trip to Home Depot (with dog in tow) to get all of the supplies we needed because we already had so much back at home. Bryan used one of the scrap pieces of wood from this project to install a shelf in the shed we have in the backyard.
Bowie likes to nose his away into all of the projects that we do. He'll stand right next to the miter saw while it's on so we have to constantly pull him away from everything that could potentially take off a limb. Bowie's most favourite thing is to steal scrap pieces of wood and pull them into the yard to chew apart. I'm not sure what's so tasty about untreated pine but the dog prefers it to bully sticks.
Pre-stain
Because home projects aren't interesting enough, while staining the underside of the bench I unknowingly managed to dip my entire ponytail in wood stain. When I lifted my head up, I splattered wood stain all over my face, clothes, arms, and legs. Luckily it came off my skin pretty easily but I spent the entire weekend trying to remove wood stain from my hair. For future reference, olive oil is the key however removing olive oil from your hair turns into another challenge. After applying dishwashing soap to my hair on Sunday evening, it finally went back to normal.
Ta-da! The final product is pictured below. It was a very quick weekend project. We put it together and stained / clear coated it all in one Saturday, however gave it through Sunday and Monday to add more coats of polyurethane, stain the bottom, and air out. This little sucker should be able to hold up to the abuse of our muddy shoes and many visitors.